The US property development sector is different from Malaysia in that land development and homebuilding tend to be carried out by different companies. In Malaysia, property developer do both.
‌That is why we have homebuilders in the US who main focus is in building homes on land that were developed by the land developers.
‌Lennar was the second largest homebuilder in the US in terms of revenue and number of homes delivered in 2022.
There is a strong correlation between Lennar's revenue and the US Housing Starts. This is a cyclical sector making Lennar a cyclical company. The last US Housing Starts cycle (peak-to-peak) was from 2005 to 2022.
‌During this period, Lennar's revenue grew at 4.8% CAGR. But this was due to a combination of volume growth and price growth. This is not a growth company in my view.
You can see from the chart below that while revenue and PAT grew over the cycle, gross profitability (gross profits/total assets) did not.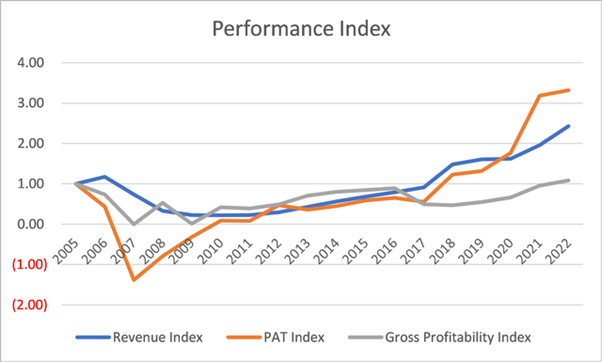 Any analysis and valuation of Lennar should be based on a cyclical lens. There is no growth in the long-term annual average Housing Starts. Based on this, there is no margin of safety valuing Lennar through a cyclical lens.
‌The market is pricing Lennar as if there is a 1/3 increase in the long-term annual average Housing Starts. Alternatively it is pricing it as non-cyclical.